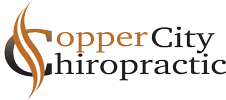 Copper City Chiropractic Techniques
Diversified (manual adjusting)

At Copper City Chiropractic we use one technique commonly referred to as "Diversified." The doctor will use his hands to apply a specific manual thrust is applied to a joint. The direction, speed, depth and angle that are used is the result of years of experience, practice and a thorough understanding of spinal mechanics.

Activator Methods

Activator Methods is an alternative to Diversified adjusting where the doctor uses a tool to adjust the spine or extremities. Often times in certain cases, such as osteopenia (bone weakening) or severly arthritic patients, the activator is commonly used in our office.

Flexion/Distraction

The objective of this therapy is to expand the space between the bones in your spine by applying mild stretching or traction of the lower back. The moving parts of the table allow the doctor to separate the different areas of the spine, and this allows for an growth of disc space between the bones in your back. This reestablishes precise alignment of your vertebrae and increases range of motion that you may have previously lost.

Spinal Rehabilitation Exercises

Depending on your issue, or ability, we incorporate exercises to strengthen muscles for postural correction/joint stabilization. Also stretches to alleviate aches and pains.